Jacques Blit has won the €1 million guaranteed Grand Prix at the Party Poker Millions Festival Malta. Previously boasting a single 'cash' over $10,000, the Argentinian made his way to Malta using a Party Poker Live Passport – a flexible satellite package that can be won online – that he claimed before the outbreak of the Covid pandemic.
Returning to South America €145,000 richer, the little-known player held a healthy stack throughout the tournament. At the conclusion of Day 1, he was the only player with more than one million chips. He reached the final table, which featured six Italian players, a Finn, and a Cypriot, in second position.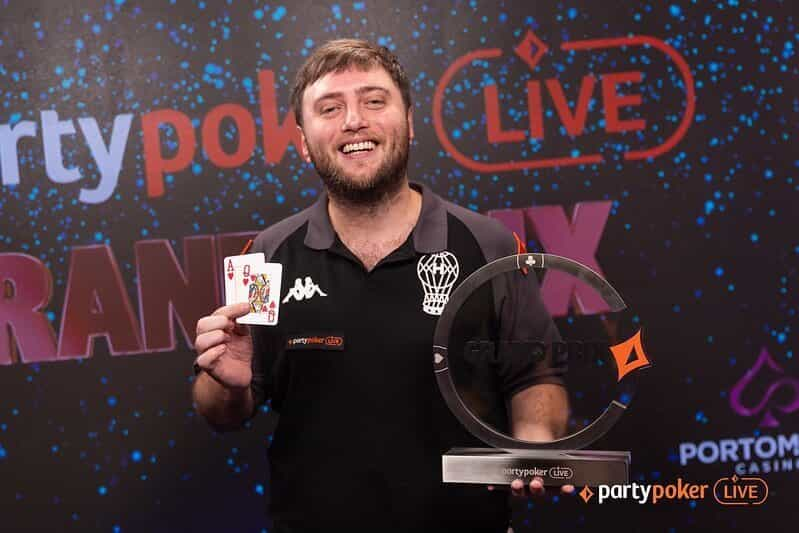 In the final hand of the competition that attracted 2,237 entries, Blit raised pre-flop with Ace-Queen of Hearts and was called by his opponent, Italy's Marcello Favaloro. Blit led out on a flop of 2h Qc 4c, and after Favaloro called, an eight of spades fell on the turn. Blit fired again, and the Italian matched his bet.
The seven of hearts was the river card, and Blit pushed all-in. Favaloro eventually made the call with Jack-2 of Clubs, but it was a hero-to-zero situation for him. The Argentinians on the rail went wild as it became apparent their countryman had emerged victorious.
Mario Aces the Gala Main Event
The second major tournament of the Party Poker Millions Festival Malta was the Main Event. It fell to Mario Trattou from Essex, England. He outlasted a field of 154 runners to scoop the €93,000 first prize.
Domenico Gala took second. The Sicilian player had the misfortune to hold Ace-Queen in heads-up play when Trattou clutched pocket-Aces. The chips went into the center of the table pre-flop.
Trattou had been down to just two big blinds on the tournament's second day. Understandably, he was delighted with his victory over 153 rivals, and, in a post-match interview, he paid tribute to his family – and their pet dog!
The Big Malta Battle About to Commence
Malta will remain a poker hotbed throughout October as attention now turns to the Battle of Malta Festival in Casino Malta. The venue, at 3,000 square meters with 320 slots, electronic roulette wheels, 23 dealer-dealt casino tables, and more, is the biggest casino on the island.
The Battle of Malta has been an outstanding success since its 2012 inception. In its first year, the €550 entry competition attracted a field of 349 players. Before Covid-19 struck, its numbers grew year-on-year until 2019, when the competition attracted 4,657 entries.
There are now two Battle of Malta tournaments held every year. This summer, Italy's Dario Barone outlasted 1,991 rival entries to take a €156,500 first prize in the first of them. Onlookers predict the €1 million guaranteed Autumn edition – which begins on October 18 – will attract even greater numbers.
A New Irish Money Spinner
Closer to home, in the UK, the Grosvenor UK Poker Tour leg in Leeds will conclude on Sunday, October 15. That same day, an 888 poker Live festival will begin at another Grosvenor Casino venue, the Grosvenor G in Coventry. Its main event, a £888 entry No Limit Hold'em competition with a £500,000 guaranteed, will conclude on October 29.
Around the same time, PokerStars UKIPT (UK and Irish Poker Tour) rolls its way into Edinburgh's Genting Casino, and it will share some of the same dates as 888's event. But the Irish Poker Festival that starts on October 31 does not clash with any other major British or Irish events.
Looking further ahead, the Irish Open released details of its 2024 schedule on Monday. The money-spinning main event – it garnered €435,925 in registration fees and deductions in April of this year – will remain a €1,000 entry competition (with an additional €150 registration fee).
It will begin on Wednesday, March 27, and is the highlight of an eight-day festival. A new addition to the decades-old Irish Open Festival is a 'Mini Irish Open.' This tournament will cost €200 to enter (plus a 15 percent registration fee) and will require 2,500 registrations/entries to reach its impressive €500,000 guarantee.
Have you enjoyed this article? Then share it with your friends.
Share on Pinterest