The 2023 Breeders' Cup World Championships, consisting of 14 Grade 1 Championship races, gets underway this weekend. The two-day meeting will take place at Santa Anita Park in Arcadia, California. $31 million in purses and awards is up for grabs.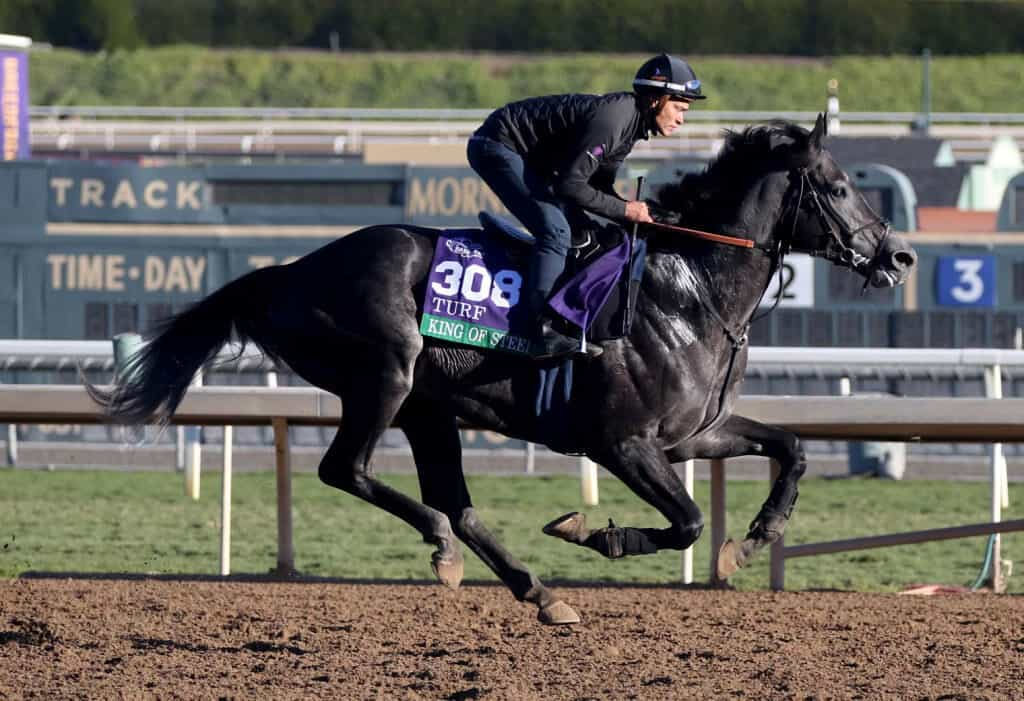 Friday's action is labeled 'Future Stars Friday,' and the five Breeders Cup races that day are restricted to two-year-olds, or 'juveniles' as they are called Stateside. European horses have fared well on Breeders' Cup Fridays, and this year should be no different.
The Breeders' Cup Juvenile Turf has been a particularly fruitful race for European runners. They have claimed the contest ten times in its 16-year history. Ryan Moore and Aidan O'Brien have teamed up to take this prize a remarkable five times. Royal Ascot winner River Tiber is their big hope this weekend.
European Success Not the Stuff of Fairytales
Saturday is for the older horses and where the bulk of the big money lies. The Breeders' Cup Classic has a $6 million purse, and the Breeders' Cup Turf – won by European runners in seven of the past eight years – offers $4 million.
That prize should come back to Europe once again. British and Irish-trained runners Mostahdaf, Auguste Rodin, and King Of Steel occupy the top three positions in the betting. The French-trained l'Arc de Triomphe third, Onesto, is rated as fourth favorite by the UK's horse racing betting sites.
Elsewhere, Inspiral, racing for the Gosden yard under the slowly retiring Frankie Dettori, is strongly fancied in the $2 million Breeders' Cup Filly & Mare Turf. Another European challenger, 1000 Guineas winner Mawj, is the marginal favorite in the Breeders' Cup Mile.
Always a sight to see, Aidan O'Brien's contenders on track at the Breeders' Cup. Among them this year: Auguste Rodin (IRE), Bolshoi Ballet (IRE), and River Tiber (IRE). pic.twitter.com/bmahTLLGYJ
— Breeders' Cup (@BreedersCup) October 31, 2023
Success for bargain basement buy, Live In The Dream, in the Breeders' Cup Turf Sprint would be nothing short of a fairytale. Trained by the small Adam West stables – which has never had more than 15 winners during a British flat season – he will be ridden by Sean Kirrane, who is still classified as an apprentice jockey.
But fairytales do come true, and the shock 28/1 winner of the Group-1 Nunthorpe has fared well in the draw for this five-furlong contest. The four-time winning four-year-old will start from gate five. Statistics are not in his favor, though, and this is a race Europe has won just once in its 15-year history.
Breeders' Cup 2023 Race Times and Schedule
Friday
Breeders' Cup Juvenile Turf Sprint
9.00 pm
Breeders' Cup Juvenile Fillies
9.40 pm
Breeders' Cup Juvenile Fillies Turf
10.20 pm
Breeders' Cup Juvenile
11.00 pm
Breeders' Cup Juvenile Turf
11.40 pmr
Saturday
Breeders' Cup Dirt Mile
6.30 pm
Breeders' Cup Filly & Mare Turf
7.10 pm
Breeders' Cup Filly & Mare Sprint
7.50 pm
Breeders' Cup Mile
8.30 pm
Breeders' Cup Distaff
9.10 pm
Breeders' Cup Turf
9.50 pm
Breeders' Cup Classic
10.40 pm
Breeders' Cup Turf Sprint
11.25 pm
Breeders' Cup Sprint
12.00 am
ITV3 has scheduled a three-and-a-half-hour show to broadcast Friday's five Breeders' Cup races. Coverage will start at 8.30 pm. All nine of Saturday's Breeders' Cup races will be shown on ITV4. A marathon show will go on air at 6 pm and finish at 12.15 am. All Breeders' Cup races can also be watched on Sky Sports Racing (Sky Channel 415). The best online betting sites will stream the race action live.
Commitment to Safety and Integrity Protocols
Organizers say the Breeders' Cup World Championships at Santa Anita Park will be conducted according to industry-leading safety and integrity protocols to ensure the well-being of all human and equine athletes.
In the lead-up to this year's World Championships, "upholding its ongoing commitment to putting safety first," the Breeders' Cup has introduced an enhanced pre-screening protocol.
This year also marks the first time the Breeders' Cup World Championships will run under the full jurisdiction of the Horseracing Integrity and Safety Authority, including the Anti-Doping and Medication Control Program, which took effect in May.
Breeders' Cup runners are subject to strict anti-doping and medication control requirements, including out-of-competition, pre-race, and post-race testing administered by the Horseracing Integrity and Welfare Unit.
Additional safety and integrity protocols include:
Equine security and surveillance measures.
Enhanced veterinary exam procedures.
Injury management protocols.
Racing surface maintenance and testing in the lead-up to the event.
Have you enjoyed this article? Then share it with your friends.
Share on Pinterest